The liability provisions of California's Corporate Securities Law of 1968 are largely copied from the liability provisions of the federal securities laws. Among these "borrowed" provisions are Sections 25400/2500 which parallel Section 9 of the Exchange Act. Kamen v. Lindly, 94 Cal. App. 4th 197, 202-203 (2001). Subdivision (d) of Section 25400 deals specifically with false and misleading statements. Below is a comparison of Section 25400(d) to Section 9: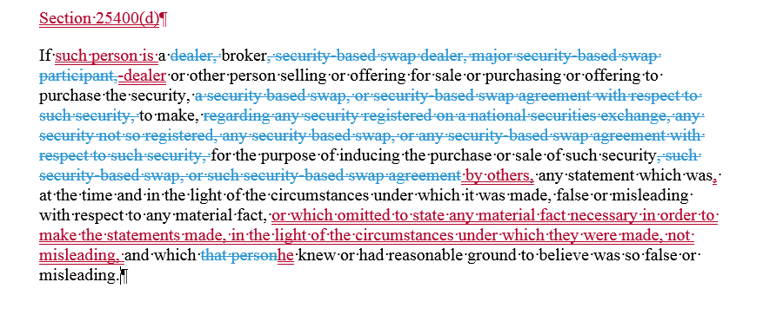 Originally, Section 9 related only to securities listed on a national securities exchange, but has been amended to include "any security not so registered" as well as any security-based swap or any security-based swap agreement with respect to such security. Section 9 also now refers to security-based swap dealers and major security-based swap participants. The CSL does not use the term "security-based swap".
The California statute also refers directly to an omission of any material fact while Section 9(a)(4) does not. Nonetheless, the federal courts seem to assume that omissions of material fact may provide a basis for liability under Section 9. Chemetron Corp. v. Bus. Funds, Inc., 682 F.2d 1149, 1161-62 (5th Cir. 1982) (footnotes omitted), vacated on other grounds, 460 U.S. 1007, 103 S. Ct. 1245, 75 L. Ed. 2d 476 (1983), cited with approval in Salvani v. InvestorsHub.com, Inc., 628 Fed. Appx. 784, 786 (2d Cir. 2015).
A forthcoming post will discuss the elements of a claim under Section 25400(d) and whether the California courts have parted company with federal interpretations of Section 9(a)(4).