Pro Bono Week Spotlight on Justin Nahama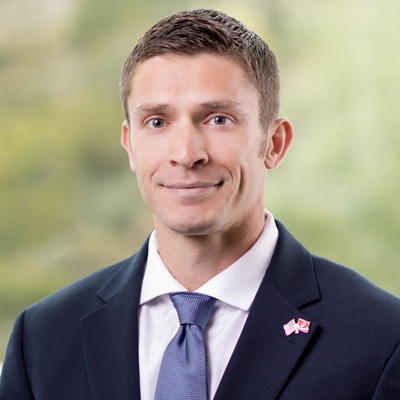 Editor's Note: Each year, the American Bar Association (ABA) recognizes the pro bono contributions of America's lawyers with a week-long celebration. This year's National Pro Bono Celebration is October 20-26. Throughout the week, Troutman Sanders is featuring profiles of attorneys who lead our efforts as pro bono committee chairs.
Troutman Sanders Partner Justin Nahama practices law differently. His practice centers on his core values of empowering and protecting others, giving back to the community, and leveraging battle-tested teams to spark meaningful change in the health care, fitness and technology industries. His unique style of practice undoubtedly stems from his time serving in the U.S. Marine Corps as a trial lawyer and trusted advisor to senior military commanders.
Justin remains connected to the military community today and gives back through related pro bono initiatives. We caught up with him to talk about the pro bono projects he is most passionate about and the ways in which he is making a difference for military veterans.
Why do you provide pro bono legal services?
As a Marine veteran, it's extremely important to me to continue to serve other veterans both on active duty and as they transition to their next chapter in civilian life. The resources available through Troutman Sanders are incredible, and I'm grateful firm leadership has allowed me to share them to support veterans.
In what ways does Troutman Sanders support pro bono?
Troutman Sanders is deeply committed and has prioritized serving veterans. The firm supports various veteran initiatives and has provided legal services impacting more than 600 veterans from the Navy SEAL and special operations communities.
What pro bono initiatives are you most passionate about? Why?
I'm most passionate about serving veterans from the Marine Raider and Navy SEAL communities given the incredible sacrifices they and their families have made. As part of the Special Operations Community, these servicemembers are away from home most of the year completing extremely dangerous missions to defend our freedom. As General Counsel for The Honor Foundation — a unique transition institute serving U.S. Special Operations Forces — we've helped pave the way for three physical campuses (in San Diego, Virginia Beach, and North Carolina) and one virtual campus that have impacted more than 600 special operators and their families. We've also stepped in as litigation counsel to support Navy SEALs in active litigation when they had financial difficulties funding legal support.