Pro Bono Week Spotlight on Aurora Cassirer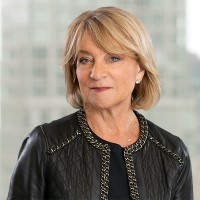 Editor's Note: Each year, the American Bar Association (ABA) recognizes the pro bono contributions of America's lawyers with a week-long celebration. This year's National Pro Bono Celebration is October 20-26. Throughout the week, Troutman Sanders is featuring profiles of attorneys who lead our efforts as pro bono committee chairs.
Partner Aurora "Rori" Cassirer is a veteran trial attorney with substantial experience in securities fraud class actions, breach of contract, qui tam, fraud, and privacy actions. Her international client roster spans pharmaceutical companies, cyber security firms, private equity funds, start-ups, medical technology companies and various financial institutions, among others. Despite her busy practice, Rori still finds time to give back in big ways.
As firm-wide chair of Troutman Sanders' Pro Bono Committee, Rori helps advance firm efforts to strengthen the communities where we live and work. We caught up with Rori to discuss her most memorable pro bono case representing Holocaust survivors and see what the New York office has planned for the National Pro Bono Celebration.
Why do you provide pro bono legal services?
I believe pro bono representation is a professional responsibility. As a firm, Troutman Sanders is committed to providing legal aid to people and organizations who need it the most, ensuring justice is fair and accessible to all, regardless of ability to pay.
I feel very privileged to have a skillset which can help members of the community who need help and cannot afford legal services. For me, providing pro bono legal services is a way of expressing my gratitude as well as a way of paying it forward.
Do you have a memorable pro bono case? If so, what made it so memorable?
I sued German multi-national corporations for Holocaust survivors who were forced to do slave labor in the concentration camps. We were able to achieve a settlement and get some satisfaction for the plaintiffs. Providing the individuals the opportunity to tell us their experiences in concentration camps and empowering them to get compensation — however inadequate, given the circumstances — was very gratifying to me. I still think of their individual travails and am thrilled that we were able to help.
What does your local office have planned for pro bono week?
Troutman Sanders' New York office is partnering with Kids in Need of Defense (KIND) in coordinating a client intake clinic for ABA's National Pro Bono Celebration. KIND protects unaccompanied children who enter the U.S. immigration system alone to ensure that no child appears in court without an attorney. We are honored to assist these children throughout the duration of their immigration proceedings.
Why should other attorneys consider giving back through pro bono?
It will be the most rewarding work they will ever do.